For those of you who, like us, read magazines as much for the ads as for the articles, we present some of the cool stuff that we've run across for barbecuing and the patio.
ROTISSERIE GRILL AND SPIT
So, maybe you don't have place for this in your urban backyard, but if you like the great outdoors, this rotisserie/grill/spit looks like an awesome cookout item!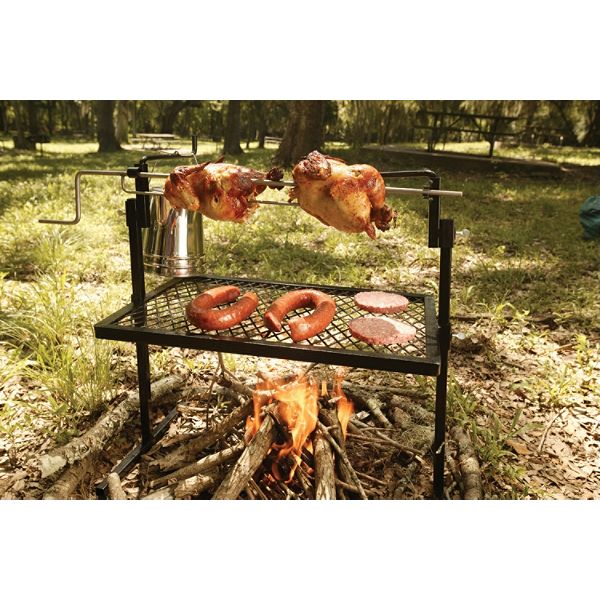 MURDER ON THE GRILL (MURDER MYSTERY PARTY)
Holy Sam Spade Batman, this looks like just the thing to get those family, friends, and neighbors to start coming to your barbecues again!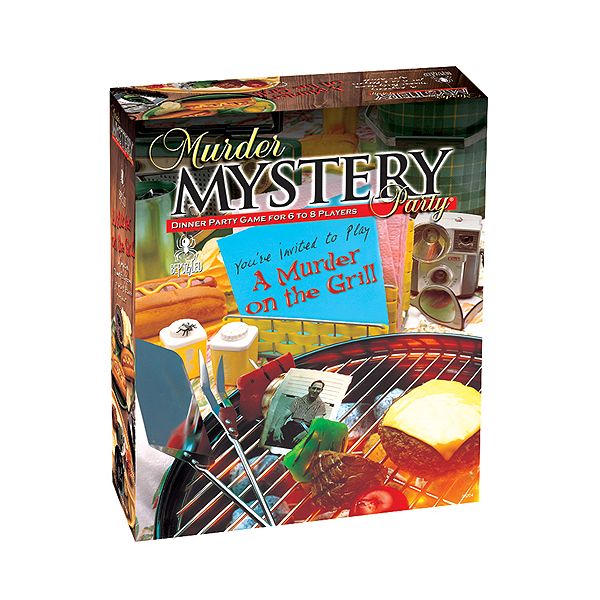 CURVED KEBAB SKEWERS
Now why didn't we think of that? Who said skewers had to be straight? After all, the Big Green Egg grill is curved. A match made in heaven.
Now your grilled and broiled kebabs can fit perfectly on your barbecue plates with these curved steel skewers. The 15" long skewers curl into an 8" circle. Set of 4.Now your grilled and broiled kebabs can fit perfectly on your barbecue plates with these curved steel skewers. The 15" long skewers curl into an 8" circle. Set of 4.
MEATBALL GRILLING BASKET
OK, we wouldn't have thought to barbecue meatballs, but now that you mention it - it's kind of a cool idea. Wonder if they have one for the spaghetti?
Spice up backyard barbecues with your favorite meatball recipes prepared fresh on the grill. Make lamb, pork, beef, turkey and more in the same batch. Our durable stainless-steel basket lets you cook and flip up to 12 at once. A rosewood handle keeps hands at a safe distance from the flame. Hand wash
FOLDABLE WOOD POTTING BENCH
We love things that have multiple uses, are portable and can fold up and stow away with a minimal use of storage space. This bench fits the bill. It can be used for potting plants, as general workspace, or as a buffet table. And did we mention it folds up and stows away? Thought so!
This Foldable Potting Bench features spacious upper and lower tiers for use as storage, work surface or to double as a patio buffet table. It's lattice backing and hanging bar is suitable for hanging gloves and tools. Folds flat for easy storage when not in use. Minimum assembly required, partially preassembled; hardware and easy to follow assembly instructions included. Merry Products - MPG-PB01
Save up to 84% on hundreds of items at Bellacor's clearance sale!
OUTDOOR UMBRELLA TABLE SCREEN
Are your outdoor cookouts being bugged by bugs? This screen, which attaches to a table umbrella, might be the solution. Of course, the bugs might not be too thrilled!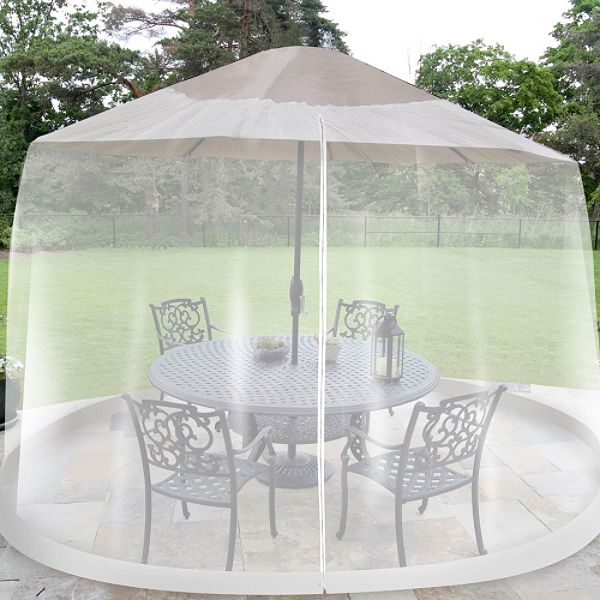 Enjoy Outdoor Entertaining Without Pesky Mosquitoes.KeepPests From Bothering Your Outdoor Fun! No more mosquitoe bites or fliesnipping at your food. Lightweight. Sets up easily over patio umbrellas.Large zippered entrance for easy access.
LA-Z-BOY OUTDOOR RECLINER
Nothing like bringing a touch of the indoors, outside. With this recliner, all you need is to teach your dog to handle the grill in addition to bringing the paper and your slippers!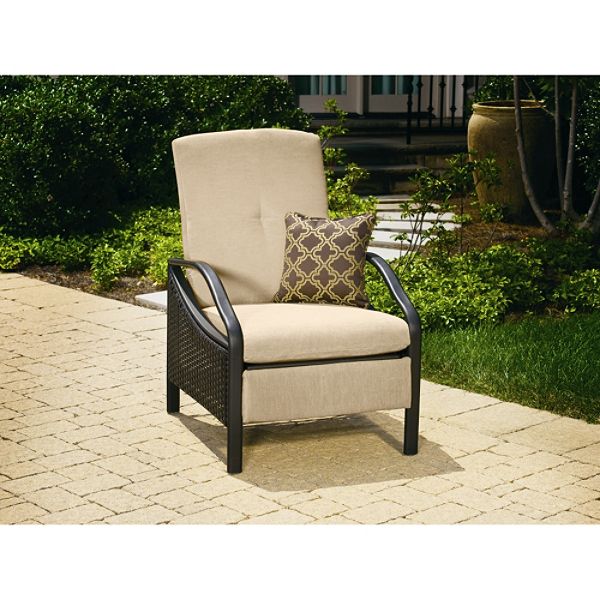 Chair dimensions: 39 in. H x 36 in. W x 27 in. H. Three adjustable sitting positions, including upright, elevated leg and full recline. Cushions: quick-drying cushions covered in 100% woven polyester for a luxurious feel and long-lasting durability. All-weather resin weave on a rust-resistant, heavy-gauge steel frame. High-performance e-coating for extended protection against corrosion and rust.
CHILDREN'S BACYARD BARBECUE PLAYSET
Can't get the kids started too early! Everything your child needs to begin their own grillin' career.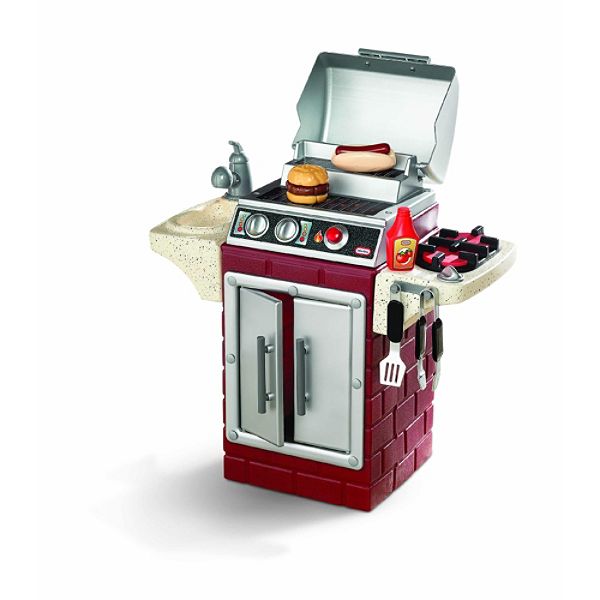 8 piece playset includes:1 Grill with lid, side burner and sink. . 1 Hamburger Patty . 1 Hamburger Bun (2 pcs.) . 1 Hot Dog . 1 Hot Dog Bun . 1 Pair of Tongs . 1 Spatula . 1 Ketchup Bottle.
FOLDING BARBECUE ISLAND
We love our stuff! We love it so much so that we are always short on space. So we really love things we can use, then fold up and store away. Like this island which can add to prep space (we never have enough counter space because we so much of our stuff on our counters) both indoors and outdoors.
Folds up extra thin for easy storage, great for food prep and entertaining. Stainless steel frame with hard basswood top and shelves. Accommodates 12 hanging wine glasses. Includes four stainless steel hooks, 3-bottle wine caddy and utility bar. Wipes clean. No assembly required.
FISH SPATULA
The spatulas that come with standard barbecue sets never seem to be quite wide enough for some of the meats and fish we grill. This one looks to have plenty of "leg room" for even your largest guests on the grill.
Sleek, ergonomic fish spatula is sized for grilling and features a rounded pakkawood grip for durability and comfort, plus a loop end for hanging. Sleek, ergonomic fish spatula is sized for grilling and features a rounded pakkawood grip for durability and comfort, plus a loop end for hanging.
STAINLESS STEEL PLANK SAVER
In these tough economic times, conservation of wood planks is both thrifty, green, and down-right American!
A must-have for fans of grill plank cooking. Stainless-steel saver protects grill planks from the flames for longer life.
STEAK BUTTON THERMOMETERS
So, Maria likes her meet charred and I like mine bloody. These look like the perfect solution, don't you think, honey?
Rare? Medium? Well-done? Use these inventive little steak thermometers in the oven or on the grill to determine your desired degree of doneness. Stainless steel and glass. Wipes clean.
SET OF FOUR BLACK FIRE POTS
Ah, fire sets the mood doesn't it? Imagine using this set of fire pots to spice up a romantic evening of barbecue!
A ventless, clean-burning decorative fire pot that sets the perfect mood for any occasion, indoors and out. -Sold in sets of four. -Made from ceramic and powder-coated steel. Perfect for indoor and outdoor use. -Uses Real Flame Pour Gel, sold separately. Real Flame - G520-BK
BALI HI BAR CABINET AND TWO BAR STOOLS
Speaking of setting the mood, how about a bit of South Seas ambiance with a teak bar and stools? That way you can show off your mixicology skills along with your grillin' and smokin' acumen!
Create an island oasis in your own backyard with Home Styles' Bali Hai Outdoor Bar Cabinet and matching Bar Stools. Showcasing an island inspired design in a versatile Teak finish and construction of eco-friendly, plantation grown Shorea wood which is known for its exceptional durability and natural resistance to water, this bar set is designed to provide endless hours of outdoor entertainment. An arc shaped top suspended above one of four storage shelves imparts a slightly modern touch to the overall traditional slat design. Arc shaping is mimicked in the back legs and contoured seat of the bar stools.
Get outdoor furnishings at Bellacor!
BRONZEWOOD TEAK OUTDOOR LOW TAPAS TABLE WITH 4 STOOLS
Now if you really want to get trendy with your barbecue, how about becoming a tapas expert? That's small appetizer plates in plain old English. This table and chair set looks very cool. The price will floor you (it floored us!) but think of how much telling what you paid will impress your friends! And did we mention, it looks cool? Oh yeah, guess we did.
Elliptical shaped table top. -Four three legged stools. -Stools fit under the table for easy storage. -Upholstered seats are removable, and produced with QuickDryFoam and Sunbrella fabric. Selamat Designs